About The Subject
The Department of Orthodontics and dentofacialorthopedicsis one of most recognized speciality in Dentistry. Orthodontics is a specialty of dentistry that deals with the diagnosis, prevention and correction of malpositioned teeth and jaws. It can also focus on modifying facial growth, known as dentofacialorthopaedics. Correction of developmental and acquired defects of the jaws and teeth are corrected through the use of various removable and fixed appliances.
Treatment Rendered in our Department
Treatment option
Begg's appliance
Pre-adjusted edgewise appliances
Ceramic braces
Myofunctional appliances
Surgical planning of cases requiring orthognantic surgery and follow up of the same
Micro implant based orthodontics
Theory
Didactic Lectures
Student seminars
Clinical discussions
Practical/Clinical Skill
Preclinical orthodontics: Wire bending exercises for different removable appliances
Chairside discussions: Case history discussions and diagnosis.
Orthodontics is the first speciality in dentistry which deals with the treatment of malocclusion, and abnormalities related to the craniofacial region. It is that area of the dental profession that has a responsibility to study and supervise the dental and skeletal growth and development from birth to maturity. It includes all preventive, interceptive and corrective procedures required to establish esthetics, function and stable facial contours. The department has best of class infrastructure with facilities under specific areas –separate Undergraduate and Post graduate clinic, Record section, Store, Seminar room, Sterilization zone,Computer section, Photography section, Wet and Dry lab. The department library has latest books for immediate reference. For patient and other record maintenance in digital format, necessary gadgets – like scanners, external hard disc are there in the department. The seminar hall is equipped with LCD projector. All the recent modalities of treatment of complex malocclusions are available. Teaching program has been designed to provide a wide perspective and includes a range comprising of chair side discussions, seminars, journal club, journal review, case presentations with active faculty. State of art clinical and laboratory facilities with access to latest materials and appliances ensure that the department is a pioneer in clinical orthodontics including self -ligation, lingual orthodontics, implants and esthetic orthodontics. The strength behind the success of the department is team of dedicated teaching faculty supported by non- teaching faculty.
Department has well designed HOD Room, Professor room, Reader room & Staff room. Department is well equipped with LAN & Software for patients records.
Objective structured clinical evaluation (OSCE) & objective structured practical examination (OSPE): Students are exposed to OSPE/OSCE based evaluations. This encourages the students to learn the subjects in more structured and analytical methodology. The clinical & practical examination by above method provide a number of chances for the candidate to express one's skills. A number of examination stations with specific instructions are provided. This includes clinical procedures, laboratory experiments, spotters (OSPE) etc. This will avoid examiner bias because both the examiner & the examinee are given specific instructions on what is to be observed at each station & marks are given accordingly.
Case based evaluation/case scenario
l The students are allowed to work in the clinics in the department, where they record the clinical findings & discuss with the faculty. This helps the students to build up self confidence for treating the patients.
l Apart from this case based assessment is done which measures the extent to which the student is able to define, analyse, solve & evaluate the problems described in the cases.
l A case scenario is given to the students & based on the knowledge they are able to diagnose the diseases, give the differential diagnosis & prognosis & write the treatment plan foe which the marks are given.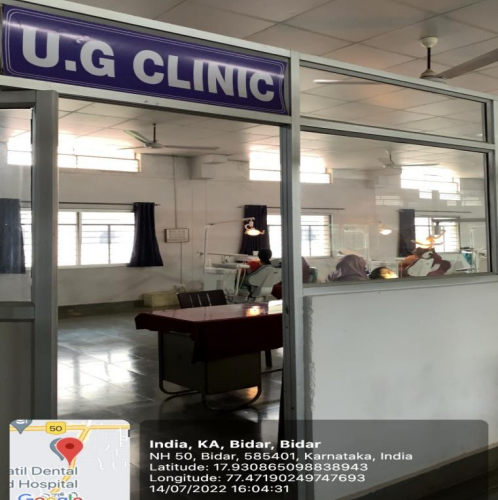 An unquenchable thirst to excel, untiring strive to achieve, limited facilities, inadequate manpower and yet a huge vision. Such was the department's stand in its initial years of birth in the year 1991. Ever since its inception, the orthodontic unit is witnessing a steady progress in all dimensions so as to evolve into an absolute wholesome. After its 31 years voyage of trials and errors, the department today stands proud featuring state of art facilities, sophisticated gadgets and high quality materials in a refined operational ambience coupled with streamlined administration all making it one of a kind.
U.G Clinic is well equipped with modern dental chairs with high suction and all necessary attachments.
Department has started post graduation in the year 2021 with two seats per year. Multi equipped & well furnished P.G Clinic with 8 modern chairs with all necessary attachments.
PG Section has individual desks & cabinets for each dental chair.
Department of Orthodontics and Dentofacial Orthopedics has a well equiped seminar room, where in seminars are conducted by the students as a part of the curriculum.
Seminars are presented with the help of a projector connected to a computer set up, so that the understanding of the topic becomes easy and intresting in the subject because of the pictographical representations on the presentation.
Photography room is useful as an aid for recording the progress of patient's treatment process.
Room Set Up:
l The room is well lit with advanced photographic light stands.
l Background is white in colour to give proper definition to the images so that there is no discrepancy seen while assessing the pictures.
l Tri pod stand.
Camera used: Canon EOS 200D II DSLR with 18 – 55mm lens lens kit & with ring flash.
Students of III and IV year gain knowledge and experience of various appliances in the pre-clinical lab.
Students are taught how to make various appliances which helps them to co-relate with the patient treatment and the stages where the appliances are used during the treatment period.
Models consisting of various appliances are present in the lab for students to go through as a pedestal on how to make the appliances ideally.
CEPHALOMETRIC TRACING ROOM
Cephalometric tracing room is used to initiate the cephalometric study to be done after a patient's radiographs are obtained.
The room consists of tracing tables on which the cephalographs are put and traced manually for various soft & hard tissue analysis that will inturn helps in better diagnosis.
ORTHODONTIC CEPHALOMETRIC SOFTWARE(NEMO CEPH)
Department has modern orthodontic cephalometric software. It is the most complete orthodontic tool for diagnosis, treatment planning & case presentation to the patient.
This software really becomes into the best tool for cephalometric analysis.
Advantages of this software are:
 Simple & quick.
 Customization of any cephalometric analysis.
 Cephalometry overlay on patient photograph.
 Orthodontic treatment plans (VTO, STO& Morphing)
 Communication with the patient.
 Soft tissue prediction.
 Intergration with Dr Arnett's Module.
 Template & reports to generate client presentations.
DIGITAL OPG & CEPHELOGRAPHY ROOM
College premises has well equipped Digital OPG & Cephalography room.
Orthodontic lab is well equipped with all the required machinery that helps the department members to carry out laboratory procedures smoothly.
Hassle-free experience of making appliances is aided by the machinery present in this lab.
Department has U.G & P.G well equipped laboratory facilities with all the modern equipments facilities like:
 Biostar
 Hydrosolder unit
 Electro polisher
 Vacuum /pressure moulding unit
 Lab micromoters
 Spot welders
 Double disk model trimmers
 High intensity light curing units
 Electro polisher
 Typhodont with metal teeth set
 Anatomical articulator with face bow attachments
Store and record room has all the required clinical and pre-clinical materials for operational, clinical, pre-clinical and documentation use.
Patient records are kept in the record room for maintenance of records that are multiple-years old.
Full fledged record room with well designed cupboards.
Department library has books and journals, read by the students of both undergraduate and post-graduate courses.
Books are of the latest editions from the renown authors  which help the students to stay updated with all the advancements in the field of orthodontics.
And also students have E- journal access to various international ,national journals  & text books.
Department has well spacious  post-graduate room  where students can carry out their assigned pre-clinical works.
And also they are having individual locker facilities.
Sterilization room is a key necessity of any dental practice.
Sterilization room of the department is equipped with:
 Digital Dry heat sterilizer
 Digital Autoclave
 Ultrasonic Cleaner
 Needle distroyer
 UV chamber ( 12 Tray cabinate )
Reception counter is to provide assistance to patients & visitors.
This is the place where patients appointments & questions are dealt with.
The patients & their treatment records are written in the register by the receptionist.
Waiting lounge is well spacious & is meant for the patients & the visitors to sit until the appointment for which their waiting begins .